2020 Momence Chamber of Commerce
Award Winners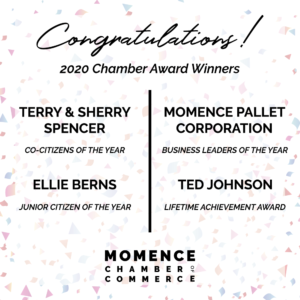 Co-Citizens of the Year: Terry & Sherry Spencer
Terry and Sherry Spencer dedicate as much of their free time as possible to the youth of Momence. Lifelong residents of the City of Momence, Terry and Sherry took over the Momence Youth Center in November 2013. They sought to create a safe, fun environment for kids based on Christian values. The Youth Center can regularly be seen packed with children, ages 5 and up, playing video and board games, basketball, foosball and all sorts of crafts and other activities. Some nights, the Center sees over 100 kids inside! Terry and Sherry are also the proud parents to 3 wonderful daughters, who have given them 4 grandchildren. Terry is currently the Chairman of the Board of Trustees at First Baptist Church. Likewise, Sherry is the Sunday School Administrator at the First Baptist Church. The Momence Chamber of Commerce is proud to name Terry and Sherry Spencer the 2020 Co-Citizens of the Year.
Business Leaders of the Year: Momence Pallet Corporation
Momence Pallet Corporation has been a locally-owned, family business for nearly 50 years. Momence Pallet was founded in 1972 by brothers, Norm and Leonard Cryer. Leonard passed away in 2001. Shortly thereafter, in 2003, Norm Cryer passed. After Norm's passing, the next generation of Cryer brothers took the reins. Norm's sons, Patrick and Andy Cryer, have been running the business since 2003 (technically, Patrick has one year on Andy). Momence Pallet manufactures pallets and other wood products for companies across the Midwest. The company has also given back to the local community as much as possible. Momence Pallet has been a major sponsor or donor for events such as Bordertown Hauntings, the Gladiolus Festival, the Momence Chamber Golf Outing, Momence High School events and the Bishop McNamara Annual Dinner Auction. Whenever the community has needed them, the Cryer brothers and Momence Pallet Corporation have been there. The Momence Chamber of Commerce is proud to name Momence Pallet Corporation as the 2020 Business Leaders of the Year.
Junior Citizen of the Year: Ellie Berns
Ellie Berns has been a model young citizen for the City of Momence. During her high school career, Ellie excelled in academics, graduating with a 3.998 GPA. More impressively, Ellie did so while taking Advanced Placement and Honors classes her senior year. Outside the classroom, Ellie has been a member of the Momence Honor Guard–earning a gold braid for leadership–and a Momence Junior Redskins Cheer coach. According to Ellie, "cheering is not about cheering for boys, but showing others what you can do through lifting each other up (physically and metaphorically)." Ellie has also made a significant impact on her local community. One of Ellie's neighbors described her as someone who "has a strong moral compass and is a very loving, compassionate young woman." Ellie plans on continuing her education next year at Kankakee Community College, focusing on law and political science. ​The Momence Chamber of Commerce is proud to acknowledge Ellie Berns as the 2020 Junior Citizen of the Year.
Lifetime Achievement Award: Ted Johnson
Ted Johnson has spent most of his life in the city he loves. After serving in the U.S. Army for 2 years–including 1 year overseas in Germany–Ted returned home and married his wife, Judy. In 1964, ​he and Judy bought their home in Momence, where he still resides today. Ted and Judy raised 2 boys, Eric and Kurt, leading to 5 grandchildren and 4 great-grandchildren. Ted was one of the founders of the Kasler-Momence Veteran's Park, and still supervises the maintenance of the grounds and plaques. Ted is also a lifetime member of the VFW, and is currently the Commander of the American Legion Post 40 in Momence. In addition to his work with his fellow veterans, Ted is the Ganeer Township Clerk and a member of the Board of Trustees for the Edward Chipman Library. The Momence Chamber of Commerce is honored to present Ted Johnson with the 2020 Lifetime Achievement Award.