2022 Momence Chamber of Commerce
Award Winners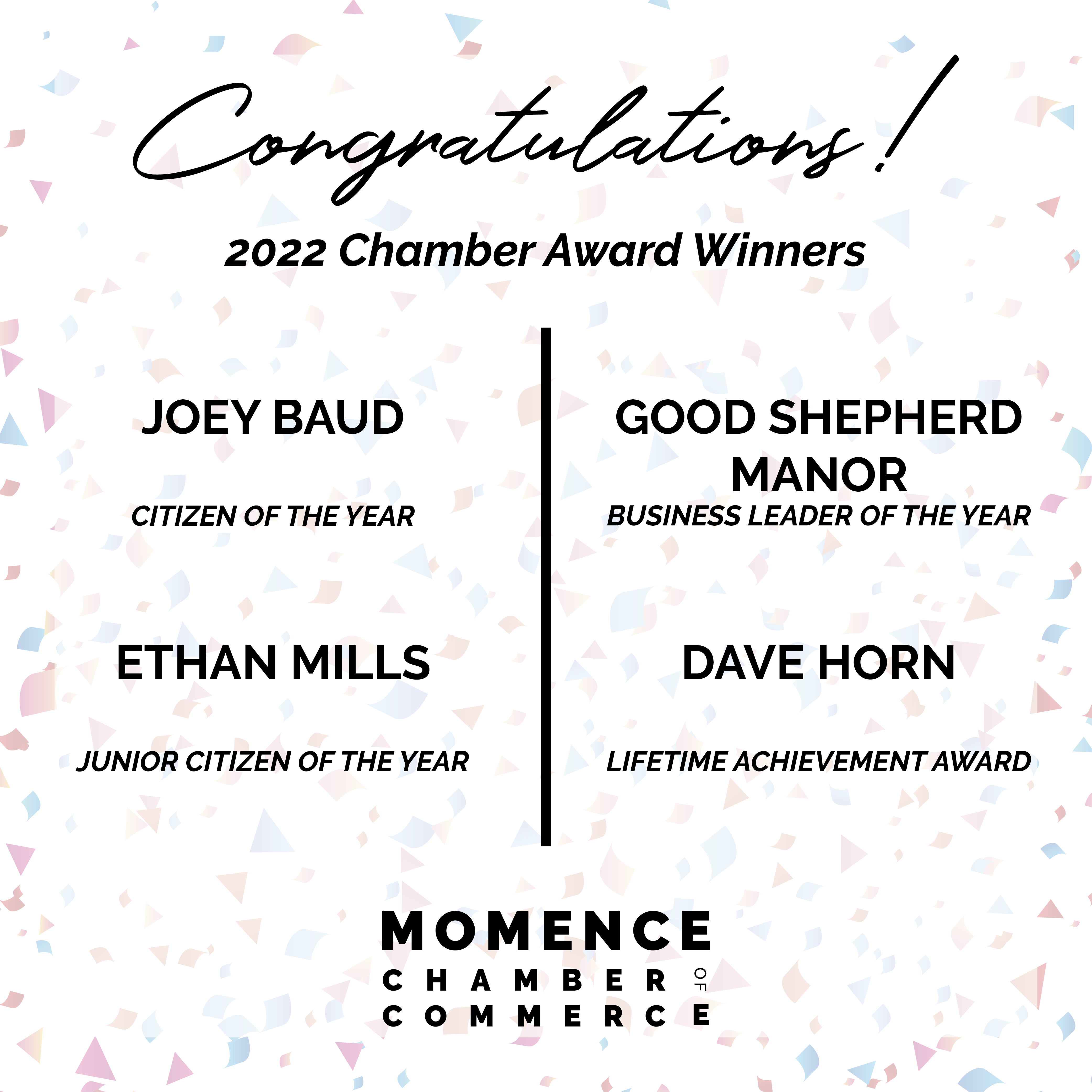 Citizen of the Year: Joey Baud
If you can't find Joey Baud in the classroom, it's a safe bet that he's either out on the baseball diamond or at a fundraiser. Joey Baud is a lifelong resident of the City of Momence. He is a kindergarten teacher for the Momence Community Unit School District, and has been for the last 5 years. When Joey's not in the classroom, he's all about baseball. Joey coaches varsity and junior high baseball in the Spring, and helps find all of the umpires for little league games. He's even been known to put on the blue and step behind the plate when there's a vacancy. Joey also fundraises for the PTO and baseball teams. More recently, Joey has become a trustee for the Momence Fire Department–a new role that he looks forward to diving into. The Momence Chamber of Commerce is proud to name Joey Baud the 2022 Citizen of the Year.
Business Leaders of the Year: Good Shepherd Manor
A group of dedicated parents and friends, along with the Little Brothers of the Good Shepherd, saw their dreams become a reality when Good Shepherd Manor opened its doors in Momence on March 1, 1971. Now, 50 years later, Good Shepherd Manor continues to serve the needs of over 100 men including 17 men that have been here since that first day in 1971! The basic Mission of Good Shepherd Manor is to provide high quality and compassionate care for men with intellectual and developmental disabilities. They strive to improve and maintain skills that enhance the quality of life for all residents. Good Shepherd Manor offers well-maintained residential facilities, paired with a comprehensive Health Care Program. Another piece of their Mission that is not as widely known, but just as important, is that they seek to serve the needs of families of their residents and the community around them. The Momence Chamber of Commerce is proud to name Good Shepherd Manor as the 2022 Business Leaders of the Year.
Junior Citizen of the Year: Ethan Mills
Ethan Mills has made it his mission to succeed at every opportunity placed in front of him. Ethan is the son of Wayne and Tricia Mills. He is graduating from Momence High School with a 4.51 weighted GPA. Ethan is a 2022 Illinois State Scholar and President of the National Honor Society. For the last 3 years, he has also shared his intellectual prowess by tutoring underclassmen through the Redskin Intervention Hour. Ethan played football and baseball while at Momence High School, and volunteered his time with Redskin Nation. He has also spent time volunteering with the Glad Fest, helping with set up, cleaning and the flea market. Ethan will be attending Olivet Nazarene University next year, majoring in Mechanical or Electrical Engineering. The Momence Chamber of Commerce is proud to acknowledge Ethan Mills as the 2022 Junior Citizen of the Year.
Lifetime Achievement Award: Dave Horn
For over 30 years, Dave Horn has protected this community as a member of the Momence Fire Department. Dave retired from the Momence Fire Department in 2007 as Chief. However, he has once again continued his service as a member of the Board of Trustees since 2011. Dave is married to his loving wife, Rita. He has four children (Jeremy, Tim, Derek and Marcia) and two step-children (Robert and Paul). In addition to his service with the Momence Fire Department, he is currently on the Kankakee County Emergency Telephone System Board and a member of The Hundred Club of Kankakee County. Dave was an employee of Edmund Allen Lumber for 38 years until his retirement in 2017. He is an active member of Our Savior Lutheran Church, serving as Financial Secretary, Chairman of the Congregation and Trustee. Dave has also been a volunteer for the last 25 years at the Good Shepherd Manor Fall Festival. The Momence Chamber of Commerce is honored to present Dave Horn with the 2022 Lifetime Achievement Award.