WHY MOMENCE
Momence is a great place to visit and play with so much to offer! 
From summer baseball to town festivals, from water sports to local clubs and civic groups, a wealth of fun and enriching activities can be enjoyed in Momence all year long.

For the outdoor enthusiast, the Kankakee River beckons boaters, skiers, tubers, swimmers, canoers and fishermen during the warmer months. The thirty-acre Island Park located on Mill Street, maintained by Momence Park District, features playground areas, a band shell with free Thursday evening band concerts June thru August, picnic and barbecue areas, a new handicap accessible fishing pavilion and plenty of wide open grassy areas to relax and enjoy nature. Bird watchers may see herons, bald eagles, red headed wood peckers, and a wide variety of other species.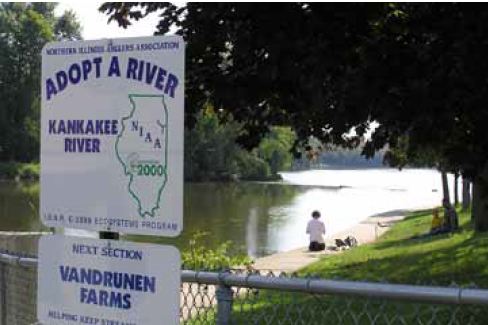 Sports- and fitness-minded residents also have a multitude of local options.
Golfers can tee off at nearby Shamrock Golf Course, Minnie Monesse, Aspen Ridge and others.

Sensei Steve's and Sharkey's Karate studios train young people in martial arts.

The Momence Youth Sports Association organizes summer t-ball, baseball, and softball leagues while maintaining the various fields in town where these sports take place.

The Momence Youth Football League runs the football, cheerleading, and basketball programs for the youngsters in our community.

When kids or adults are looking for a family friendly environment to hang out in, they visit New Trail Outfitters Youth Center where they can play all sorts or games or just share quality time together.
Civic and service organizations include the Momence Chamber of Commerce, Gladiolus Festival Association, 4-H, Lion's Club, Main Street Momence, Momence Antique Car Club, Friends of the Park, Momence Jayettes, Knights of Columbus, Momence Honor Guard, Girls Scouts and Boy Scouts.